Ken Howell
Planned Work Specialist
Gardener/Horticulturist at Disney in Orlando, Florida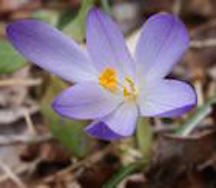 1. Can you explain to young people just what your career is?
A Horticulturist is a person who is well versed in the science part of the profession if gardening. A Disney Horticulturist's job includes: landscape design(environmentally friendly), landscape installation, maintenance, construction, purchasing plants and equipment, irrigation, plant production, special plant displays for special events, pest management(in an environmentally friendly way), experimentation(of new plants, equipment and procedures) and education of guests and cast members.

2. What is the best part of your job?
The best part of my job is helping people learn about landscaping and seeing their enjoyment. I also enjoy creating beautiful and exciting landscapes.

3. What would you say is the most difficult aspect of your career choice?
I can't really think of any at this time.

4. Do you have a specific memory you'd like to share with young people about your job?
I have worked at Disney for 19 years and remember being part of the opening team that installed the initial International Flower and Garden Festival at EPCOT, which has continued for 16 years.

5. What are the necessary skills/ degrees needed to enter your career choice?
You need a love for landscaping, nature and the environment. It helps to be somewhat artistic. You also need a knowledge of plants and landscaping and a college degree in horticulture and as many plant science related fields as possible.

6. Any suggestions for young people who might be interested in your career?
How can they begin now to get prepared for your career choice? Volunteer to help people in their gardens or landscaping projects. Start learning the names of plants and any information about plants. Start and maintain a vegetable garden or home landscape. Help plant and take care of a community landscaping project. Read as much as you can about landscaping and related subjects. Get a part time job working at a gardening center. Just a garden club or agriculture club. Read horticulture magazines.

7. Where can you work in your field?
You can work any place that displays or sells garden products. You can work at a nursery, greenhouse, botanical garden, pest management company, landscaping company, government agency concerning agriculture or start your own gardening/horticulture business.

8. Describe a typical day at your job.
I interaction with guests and cast members at the Disney parks regarding the education of our landscapes. I work on future projects, train other gardeners, write guest programs, document past and current landscaping projects, purchase plants, equipment and landscape props and work with universities and studies in a landscape related field.

9. What got you interested in becoming a horticulturist? Did anything in school or your childhood help spark this interest?
I remember having a vegetable garden as a child and have always had a love of nature and an interest in plants.

10. Look at the wonderful topiary photographs from the EPCOT Flower and Garden Festival 2009.
Topiary is the art of trimming and shaping plants into ornamental shapes.
Ken explains the three different types of topiary. After reading, which type of topiary do you think these examples are?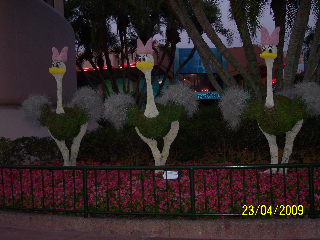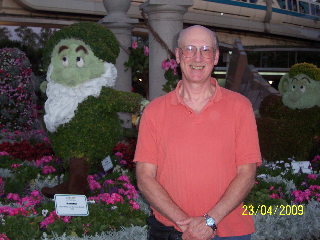 NOTE: Next to a topiary of Bashful is NOT a topiary! That's my husband.)
1. Free form topiary - these are shrubs that are pruned into various shapes by free hand. Examples would be shrubs that are pruned into squares, rectangles, triangles, spirals, pompoms etc.
2. Shrub topiary - Here a metal frame of a certain character is inserted into a box of soil. Drip irrigation is placed on the frame. Whether the frame represents a person or an animal, a shrub is started in each leg. Branches are forced to fill in all areas. This might take 3 to 10 years to complete. Once the frame is covered, growth is maintained and pruned back just outside the frame.
3. Sphagnum Topiary: These also start with a metal frame, b
Note: Photograph from WPClipart.com