2. From a Greek word meaning "opposite to the north", Antarctica has 90% of the world's ice. Much of the ice is 1 mile thick! Click on the different slides to learn about some of the mammals that call Antarctica home. Which mammal's name is misleading as it doesn't eat what its name implies?_________ Of all the seal species, what can be said about this particular seal?_______The Weddell seal can hold its breathe for as long as 45 minutes!What seal has very large eyes?_________Which seal is known for its underwater singing?____________Find the answers at this link: activewild
3. What are TWO reasons for Antarctica being called the "largest desert in the world"?______________and_______________ What are THREEreasons for the lack of plant life in Antarctica?__________and ________ Some plant life can be found in Antarctica. Name two flowering plants that grow in the summer months:___________and _______________ Find the answers at this link:buzzle.com
Did You Know?
1. The continent of Antarctica was once part of a larger mass mass called Gondwanaland. India, Australia, SA and Africa were also part of Gondwanaland.
2. The highest point in Antarctica is Vinson Massif. It is 16,070 ft. (4897 m)
3. The coldest temp ever recorded was -128.6 F(-89.2 C)onJuly 21, 1983, at the Russian Vostok Station, on Antarctica.
4. Did you know that 98% of Antarctica is covered by ice and snow?
5. Did you know that only 100 tourists are allowed to be ON Antarctica at any one time?
There are 10 web questions and 14 Did You Know? Additionally there are 9 Comprehension Questions(some thought questions), a Teacher page with 7 extension activities, additional links and the key.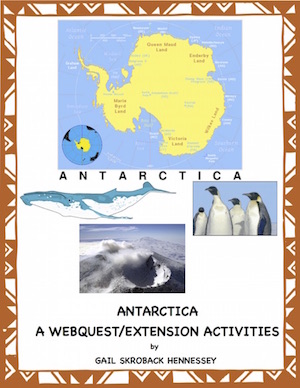 Check out my complete Webquest on Antarctica:Antarctica! A Webquest
Note: Illustration from Wpclipart.com
---