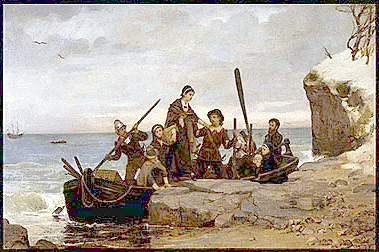 Mayflower and Pilgrims Webquest
By
Gail Skroback Hennessey
The Mayflower was named after a flower called the "Trailing Arbuttus". This flower is an evergreen with a white flower and pink center. Learn more about the Mayflower and the Pilgrims with this fun webquest.
1. 102 passengers sailed on the Mayflower voyage which left Plymouth, England, on September 6, 1620. What was the name of the baby born along the voyage?_____ How did the Billington boys start a fire on the ship?___________ According to legend, who was the first passenger to step onto Plymouth Rock?____________________
Find the answers at this link:
http://www.lacolony.org/dps/dp11.html
2. The trip was very expensive and most of the passengers agreed to work for seven years for the Virginia Company that sponsored their passage. What were the colonists supposed to send back to the company that paid their way?____________ After the seven year period, what did the colonists receive?_______________
Find the answers at this link: Plimoth.org
3. What was the reason many went on the journey to America?____________ What were two other reasons for making the journey?_____________ and ______________Where was the original destination of the Mayflower?______________ Tired and seeing land,( Massachusetts), the ship docked on December 11th. With snow already on the ground, how did a passenger, William Bradford(later the 2nd governor of Plymouth Colony) describe what he saw?_____________________________
Find the answers at this link: http://www.pbs.org/wnet/historyofus/web03/segment1_p.html
NOTE:There are 10 webquests, additional information, extension activities and resource links in the complete updated webquest.

Check out my Mayflower and Pilgrim Webquest/Extension Activities at my TpT Store:Mayflower and Pilgrims Webquest


Note: Illustration from: WPClipart.com
---