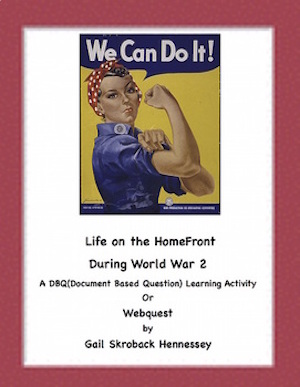 A DBQ(Document Based Question) Learning Activity
Life on the Homefront During World War 2
by
Gail Skroback Hennessey
SAMPLE:For the entire resource, please go to my TpT Store:Life on the Homefront During World War 2
A DBQ activity uses primary sources. Sources can include diaries,posters, music, news articles from the time, anything written by those who participated in or witnessed an event in history. Students review the given documents and use many cognitive skills in processing what they see and read. After gathering information using the documents, students develop an essay answering a question, in this case, "Describe Life on the Homefront During World War 2",citing several of the documents reviewed.
Task:
Your first task is to carefully review the different primary documents.
Your second task is to respond to the questions followingeach reviewed document.
3.Finally, write an essay including information learned from at least four of the sources.
Review the information
1.Go to these links and review the posters:http://www.rare-posters.com/5652.html
A. In what ways were children encouraged to help during the war?_________________ _________________________________
2. Go to this link:Children and the War and review the information "Children and the War".
What was an item that children liked to collect to help the war efforts?______________ From which 2 sources did they find this material?___________ and _______________What did they like to make with the collected material? ________________
In 1942, what did Boy Scouts in Nashville,Tennessee, collect to help the war efforts? ______________ How do you think the material was used by the military?____________
ESSAY:
Review your responses and develop your essay on what it was like to live on the home-front during World War 2. Things to include:
A. Share three ways people on the home-front helped with the war efforts.
B. Explain specifically how women and children helped on the home-front during the war.
C. Include two examples of prior knowledge on the topic of World War 2 which you may know.
Write your first draft.Remember to include an opening sentence where you state to the reader what the topic is you will be covering. Remember to have a closing(wrap up) sentence, where you reiterate to the reader, what was the topic your essay covered.
Proofread your work and then write your final essay.
This activity could also be used as a webquest!
NOTE:This DBQ includes 7 questions/document links for students to draw informationin the development of an essay on Describe Life on the Homefront During World War 2. The DBQ activity could be used over a 2-3 class period. A TeacherPage includes the key and additional resources on the topic which teachers might find of value to use with their students.
Check out another DBQ activity: The topic of this DBQ is Life of a Japanese-American Child Living in an Internment Camp during World War 2. A teacher page includes the Key,additional links and suggestions for a rubric to grade the DBQ. This resource could also be used as a web quest. Grades 5 and up: https://www.teacherspayteachers.com/Product/DBQ-Life-of-a-Japanese-American-Child-Living-in-an-Internment-Camp-during-WW2-3061985
---