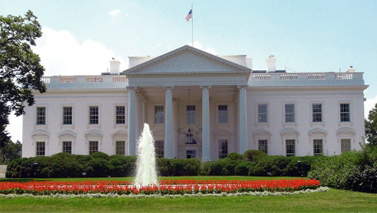 The WHITE HOUSE

by Gail Skroback Hennessey




The White House is located at 1600 Pennsylvania Avenue.What do you know about where the President lives during his term in office?Did you know that President Jimmy Carter was the first to install solar energy panels on the White House or that President Ronald Reagan had them removed?Did you know that President Benjamin Harrison and his family didn't like to shut off the "new" electric lights(installed in 1891), afraid to touch the switches or that a specially large bathtub was installed in the White House for President William Taft who weighed 332 lbs?Learn more about the White House with this fun and informative webquest.




1. Did you know that the White has 35 bathrooms, 147 windows and 132 rooms? Did you know that 570 gallons of white paint are needed to paint the White House? Through the years, the White House has also been called_______________, ______________and __________________. Which president officially called it the White House?___________________________ Find the answers at this link:Factmonster.com




2.Although our first president, George Washington selected the location for the White House and supervised its construction,he never got to live there. Which president was the first to move in the White House in 1800?___________________It wasn't finished(only six of the 132 rooms were completed) and was unfurnished.The First Lady used the East Room to hang the wash! Until the Civil War, what could be said about the White House?______________Find the answers at this link:whitehouse.gov




3.Until the Civil War, the biggest house in the United States was the White House. In addition to a tennis court, swimming pool, a jogging track and a movie theater, what other two recreational activities can be done in the White House?_______________________President Obama adapted the tennis court so it could also be used for basketball. Which president placed a putting green at the White House?___________Find the answers at this link:whitehouse.org




There are 10 web questions and several comprehension and discussion questions in the complete webquest. Extension activities also included. Only $3 at my TpT Store.

Click here:Learn about the White House Webquest!



Note:Photograph from: http://publicdomainclip-art.blogspot.com/2007/09/white-house.html
---