Dick Vitale- Sports commentator ESPN(College Basketball)
In April, 2008, Dick Vitale, was selected to the Naismith Memorial Basketball Hall of Fame! Congratulations to you!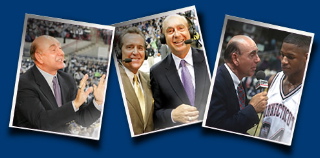 *Photograph from Dick Vitale
1. Can you explain to young people what a sports commentator does? A sports commentator reports on sporting events. As a color commentator, your job is to add interesting information about the players and the teams.
2. What is the best part of your job?
I don't call what I do a job, I call it a love affair, I am very fortunate. I'm a basketball fanatic who has the best seat in the house and I get paid for it!
3. What would you say is the most difficult aspect of being a sports commentator?
The travel aspect and being away from my family is the most difficult aspect of my job.
4. Do you have a memory you'd like to share concerning your job?
I remember one Duke University game when the fans passed me along up through the stands to the second level of seating and then back down to the floor at the Cameron Indoor Arena. Another time, I was in the studio doing the first- round NCAA Tournament game between Princeton and Georgetown. Having won the Big East, Georgetown was the big favorite. Rooting for the underdog, I said on the air that if Princeton were to win, I would hitchhike to Providence and join the Princeton cheerleaders in the next round! I didn't have to do this because Georgetown blocked a shot at the end and won by one point!
5. What are the necessary skills/degrees needed to become a sport's announcer?
A passion for the sport you wish to cover. You need to be articulate(able to speak well), the ability to quickly describe the events of the game during a live broadcast. Formal training in broadcasting is valuable. A pleasant voice with a good command of correct grammar usage is also important.
6. Any suggestions for young people who might be interested in your career?
Get the best education you can get. Study and listen to your parents and teachers. Join a school newspaper or local radio station. Watch a sport's game and shut off the sound. Mimic being an announcer and tape yourself to listen later. If you have a passion, pursue it to the best of your ability. Look in the mirror. Did you do the best you can? I'd also say that young people should use the 3Es- Energy-enthusiasm-excitement for every day!
7. Describe a day at your job.
You must be prepared. There is LOTS of preparation before a game and preparation is vital! You need to study the stats for each player prior to the game. I talk with the coaches, read the local papers and internet articles for story lines, players doing well or struggling, etc. My colleagues and I then prepares with the ESPN production staff going over the upcoming night's event and do a dress rehearsal.
8. What got you interested in this career choice?
I was a 6th grade teacher and coached high school basketball. I eventually went on to coach college basketball and pro basketball(the Detroit Pistons). A new network, called ESPN, asked me to announce their first college basketball game, in 1979. Life was exceeding my dreams. I've been doing this every since.
Some of Dick Vitale's famous terms:
"It's awesome, baby!"
dipsy-doo dunkeroo
slam-jam-bam, baby!
diaper dandy(outstanding freshman)
Maalox Masher(end of a close game)
Call the fire chief, because he's on fire(player making lots of baskets)
---