You can see lots of Suzi Eszterhas'work in Ranger Rick Magazine, Smithsonian Magazine and BBC Wildlife.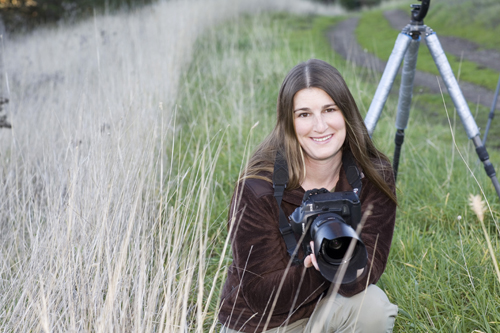 1.Can you explain to young people just what a photographer is?
I photograph animals to show their beauty and their behavior and by photographing wildlife hope to foster understanding on why conservation is so important to protect them.

2. What is the best part of your job?
I get to be with wild animals in their natural habitats and watch their behavior. I get to establish a relationship with animals which most people do not have the opportunity to do.

3. What would you say is the most difficult aspect of your career choice?
The traveling can be exhausting. I've photographed wildlife in Africa, the Arctic, Antarctica and North America. The isolation at times and carrying of all the necessary gear would be difficult aspects of my job.

4. Do you have a memory you'd like to share with young people concerning your job?
I got the opportunity to watch a family of jackals. Each day they allowed me to get closer and closer. I was building trust with the animals.Eventually, the babies would jump on my jeep and chew the tires! One reached up and actually batted my shoulder. I'd tell children that you must try not to have personal contact with the wild animals. Another memory was that I've had a gorilla and a grizzle bear charge at me as I tried to photograph them!

5. What are the necessary skills/degrees needed to become a photographer?
I would say you definitely need patience. You can go days without seeing any animals. You also need to have powers of observation, a love of animals, research skills to figure out where to look for wild animals , computer skills and an appreciation of art. You need to pay attention to details and always have a respect for wild animals.

6. Any suggestions for young people who might be interested in your career? How can they begin now to get prepared for your career?
Get a camera and take photographs! Read books on photography, perhaps, take a photography class, study animals and ecology if you wish to specialize in wildlife photography.

7. Where can you work as a photographer?
You can work anywhere in the world as a wildlife photographer. You can also work in urban areas photographing insects, birds, etc.

8 . Describe a typical day at your job.
There isn't a typical day as a wildlife photographer. One day,I'll get 3000 photographs,the next day I might not get a single one! I am out in the wild from sunrise to sunset while in the field. Other days,I am working on the computer to do post processing.

9. What got you interested in becoming a photographer? Did anything in school or your childhood help spark this interest?
As a young girl, I observed and photographed birds in my backyard.I enjoyed reading books about Jane Goodall( work with chimpanzees) and Diane Fossey(worked with endangered mountain gorillas). With a wooded area in my backyard, I got to observe lots of wildlife. In school, I enjoyed art classes, creative writing and animal studies.

10. Anything else you'd like to share with young people about your career?
I would tell students that the work of wildlife photographs can help protect and conserve animals. Photographs help  show people why wildlife is worth protecting and why they are worth caring about.
You can also visit Suzi Eszterhas' website to see her wonderful wildlife photographs:
Suzi Eszterhas
/