Shane Matthews
Cartographer
National Geographic Maps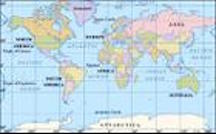 1. Can you explain to young people just what a cartographer is?
A cartographer is a person who makes maps as a career. Sometimes the making of a map requires working with a team of people and other times a team is not needed. A map from start to finish can take a few months to a couple of years. In case you are wondering, cartographers don't get to name newly discovered places. It takes an act of Congress to name or change the name of a geographic feature. Such decisions are primarily made by an organization called The Board of Geographic Names.
2. What is the best part of your job?
The best part of my job is learning about interesting new places, cultures and land forms. The very first map I developed with National Geographic was the Badlands National Park in South Dakota. Sometimes, I get to visit the region which I am mapping but in this day and age, computers are usually the method of exchanging data and other mapping information.
3. What would you say is the most difficult aspect of your career choice?
The most difficult aspect of being a cartographer is finding the correct information in order to create an accurate and trustworthy map that people can use. It is important to make sure that the maps that you produce are accurate. Using the correct information is critical so that people trust the map and the company that produces them.
4. Do you have a memory you'd like to share with young people concerning your job?
One of my fondest memories was meeting with the Costa Rican Mapping Agency to discuss a new map of their country.
5. What are the necessary skills/degrees needed to become a cartographer?
In order to become a cartographer, one must have good math skills and have an understanding of geography. You need to be able to display information in way people can understand it. Computer skills are extremely important in today's mapmaking as well as having artistic abilities since cartography is a blend of art and science.
6. Any suggestions for young people who might be interested in your career? How can they begin now to get prepared for your career?
When you go on a trip, pull out the road map and try and plan a route to take. Draw a map of something such as from your house to your friends house including several landmarks and roads. If you would like to become a cartographer, you will need to study math,geography and cartography. You should consider going to a college or university that is well known for their Geography Department.
7. Where can you work as a cartographer?
Even though Cartography is a small field, there are a lot of opportunities and places you could work. You could work for a mapping company that produces road atlases. You could work for a telephone company that produces city maps in their phone books. You could also teach Geography and Cartography at a high school or university.
8. Describe a typical day at your job.
A typical day for a Cartographer would be collecting mapping information like roads, various types of boundary lines, land cover information, etc.,from a variety of land management agencies. A normal day may also include reviewing maps for accuracy and appropriate content. You need to create a map that has aesthetic quality. This means you need to try and make a map that is pleasing to the eye; one with the right colors and choosing how you display the information. You also might even think about new areas to map that have not been done before.
9. What got you interested in becoming a cartographer? Did anything in school or your childhood help spark this interest?
I have always loved maps! I was the kid with the road atlas in the back seat of the car on family vacations figuring out where we were and how long it will take to get to my Grandparents house. On family trips to places like Williamsburg, Jamestown and the Smithsonian, the historic maps displayed really interested me!
10. Where do you currently work as a cartographer? What are some of your recent projects and/or upcoming projects?
I currently work for National Geographic Maps. Recently, we have finished working on some maps of the High Sierra in California. This year we will begin mapping out the California Baja of Mexico.
.
• The oldest known map dates back to an ancient Babylonian clay tablets from about 2300 B.C.(this area, once called Mesopotamia, is currently the country of Iraq)


Note: Illustration from WPClipart.com
---