Lesson 3
Competition and Monopoly
Petunia's Surprise
Once upon a time, in the kingdom of Hensney, the people were quite unhappy because there weren't any restaurants in town.
Men and women who couldn't cook were getting dreadfully thin. Women , tired of cooking dinner every night for their families, were threatening a mass-strike again dinner.
The situation was reaching a critical stage when a young woman named Petunia from another kingdom down the road, who loved to cook, hit upon a terrific idea. "If," she said, " I move to Hensney and open up a restaurant, people would pay me for the service of doing the cooking . And, me, "I'd get money as well as doing something I enjoy."
Petunia quickly moved to the little kingdom of Hensney and opened up her restaurant. She was swamped with thin men and women and happy women and their families. Petunia was so busy making hamburgers, hot dogs, pancakes and steak, that she had to hire three other people just to help her keep up with all her business.
Business was booming and Petunia was making lots of money.
Several months later, however, a dark cloud gathered over Petunia's restaurant. Another person, seeing how popular Petunia's restaurant was, decided to open a restaurant up in town, too.
The place was called Relax and Eat , and offered all the foods that Petunia offered as well as spaghetti, chicken and pizza.
The people of the kingdom of Hensney were thrilled. Now,, they could choose between Petunia's and Relax and Eat for dinner. There were so many choices of what to eat!
The only person unhappy about the whole state of affairs was Petunia. She was losing business because people were now going to Relax and Eat instead of her restaurant since there was a menu with more variety there.
With less money coming in , and less customers to wait on, Petunia didn't need all the workers she had hired , so she laid them off. One employee, named Henshaw, was planning to buy a new flat screen HD television but, with his being laid off, he didn't have any money coming in, and had to cancel his order.
Worried with what to do, Petunia hit upon a new idea. She would offer all the dishes that Relax and Eat had, plus at higher prices. She felt sure people would again return to her restaurant, and at a higher price she'd make back the money she had been losing the past month.
To Petunia's surprise, business didn't pick up at all. In fact, LESS people were coming to her restaurant.
Henshaw , who came by to see Petunia, said it was because she charged more than Relax and Eat for the same foods. "In order to get business back, "he said, "and my job , too, charge the same or a bit less for your dinners."
Petunia took Henshaw's advice and was quite thrilled to see her customers again return to her restaurant. She knew that in order to keep her customers, she would have to make her dinners as goods as those at Relax and Eat. Petunia also began offering coupons and other gimmicks, such as balloons for the children, to get people to select her business over Relax and Eat
Everyone was happy in the kingdom of Hensney. Henshaw got his job back and was able to buy that flat screened HD television he wanted so much, and both restaurants were both doing a good business.
A few months, later a cloud again fell over Petunia's and also Relax and Eat. Another restaurant was opening up in the little kingdom of Hensney...
Questions:
1. If you were the owner of the new restaurant that was coming to town, what might you offer the customers to get their business?
2. How does COMPETITION help the consumer? GIve two examples
3. How do people having jobs help other businesses? How does not having a job hurt other businesses?
4. How does a business in a town help the people that live there?
5. The opposite of COMPETITION is MONOPOLY. Give two examples of how a business in a monopoly would be different.
Activity:
1.Divide the students into groups of 2 or 3. Give each group a large sheet of paper and a marker.
2. Tell the students that they are to copy what you do.
A. Open up an ice cream shop in town. Give yourself a name and hold up your sign. Say you are the ONLY ice cream shop in town and will have LOTS of business. Tell the students to do the same and hold up their sign once they are ready to open up an ice cream store, too.
B. With all the "competition", you need to get customers to your store. Explain that you will offer THREE flavors of ice cream at your store(vanilla, chocolate and strawberry). Encourage the groups to "compete" with your store for business offering more variety. Give a few minutes and then ask the groups to Hold their signs up again advertising their flavors.
C. Explain PRODUCER and CONSUMER terms. Explain a producer is in business to make a PROFIT. Have students brainstorm all the costs involved in having an ice cream store.(ie: rent, electricity, heat, equipment, ingredients, telephone, advertising, etc.). Say that an ice cream cone costs you, the producer, after ALL your expenses, 10 cents. You want to make a profit, so, you are going to charge 25 cents for each ice cream cone. Have the groups make a price for their cones.
D. Have the students show their prices. Some will be less than you to "compete" yet others may go higher. Review how someone charging a lot more could explain their pricing to get customers.(better quality, trendy flavors, want to show off to your guests that you purchased "expensive" ice cream, etc.)
E. Tell the students to think of ways to bring business in without lots of expense to you. Mention GIMMICKS that stores use and see it they can think of some examples to offer. Go over these ideas(examples: punch card to get a "free" ice cream, offering balloons for kids, coupons, etc.)
Review the activity of how competition is helpful to the consumer in many ways.
Check out my Money, Money,Money-Teaching Kids about being Good Consumers!(unit of study with notes,fun facts,activities,2 short quiz activities,links) at my Teacher Store at TPT at this link:Money,Money,Money-Teaching Kids about being Good Consumers!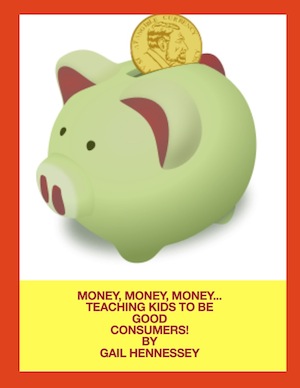 Illustration from WPClipart.com
---