What's the Weather for Tomorrow?
Chad Myers, CNN Meteorologist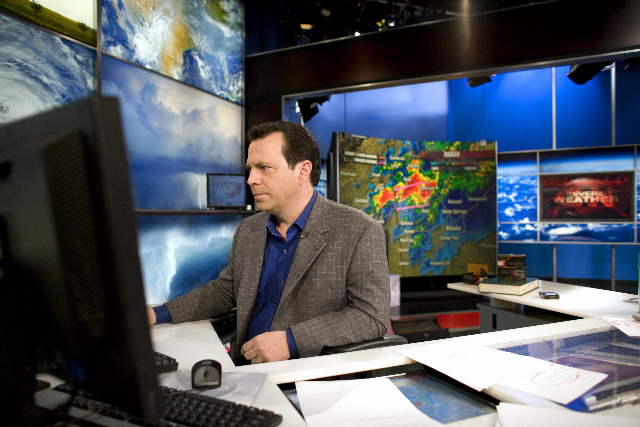 Wonder whether you need a jacket today or your sunglasses?Wonder if your ball-game will be postponed or if you will be able to take a dip in a pool? Chad Myers, works at CNN. As a meteorologist, it's his job to forecast the weather. He lets people know what the weather will be and to alert people of possible dangerous weather conditions that might be on the way.
1. What's the best part of being a meteorologist?
The best part of my job is that it is different everyday. Some days there will be tornadoes and then a few days later it might snow. When I walk into work, I don't know what that day will bring. In addition, meteorologists are the station's scientist. At CNN,I have to know about volcanoes(like the one in Iceland recently in the news), earthquakes and all other scientific topics.
2. What's the most difficult part of your job?
I'd say the most difficult part of my job is not always being correct. I would love to have a perfect forecast everyday, but the technology and computing power to make forecasts is just not perfect...so we do our best. Sometimes it rains on picnics when it's not supposed to!
3.Do you have a special memory of your job as a meteorologist?
The most memorable day of my career was in Oklahoma when a tornado was on the ground heading into a town. I was on TV warning people to take cover. The next day, during an interview with a family that had their house destroyed, they said "Chad saved our lives last night." That was a special day!
4. How does someone become a meteorologist? What are some skills needed to be a meteorologist and what can a young person do now to prepare for your career
?
A meteorology degree is a 4 year program. You need to have a love of math and science. Computer skills are needed to research and develop graphics, communication skills(verbal and written), and having a sense of humor is important,too. Start now by reading weather books, watching the weather reports and practicing giving weather reports.
5. What is your Magic Wall?
Meteorologist used blue screens. Viewers saw weather maps but the meteorologist saw a blank screen.To keep track on what was on the screen, there were two monitors on each side that you needed to watch. It took lots of practice to master using such screens! I now have the "Magic wall". I can have 7 different pictures, graphics or movies all up on the wall to help make the story better. Think smart boards like you may have in school. It's great being able to see everything in front of me!
6. What's a typical day?
A day at CNN starts in the makeup room...yes even men have to wear makeup on TV. Then I talk to my producers. They have story ideas that they would like me to talk about. I will then go to the computer and make graphics or movies to help tell those stories. A few hours later, I am on TV talking about the weather and probably some volcano or earthquake.
7. What got you interested in becoming a meteorologist?
I was born in Buffalo, New York, where it snows a lot. I loved watching the meteorologists on the TV stations, especially in the winter to see if we would have a snow day. Most days the bus just drove through the snow, but some days we could stay home and make snowmen. I loved the weather and how it could change so fast.
8. Do you have a favorite weather event?
I'd say that would be a land falling hurricane. It has such tremendous power yet is beautiful to watch. I have also chased tornadoes in Oklahoma. Remember....severe weather needs to always be respected!