Lesson 1
How to Buy a Dragon(A story to help teach the idea of "bartering")
In a kingdom long ago, a little man named McFurgal was concerned for the safety of his family and himself. "With all the barbarians about, I could really use some protection for my family and my property," thought McFurgal. "I think I'll go to the local used-dragon lot down the road to see about buying a slightly used , but hearty dragon."

"Good day, sir," said Myron, the used dragon dealer. "What can I do for you?"

"I'm looking for a dragon to protect my family and my property," explained McFurgal.

"Well,, I have here," pointing to a greenish scaled dragon, "a very good purchase. Good for many more years of fire-throwing."

"Sounds perfect. I'll take her. As a trade I have a load of firewood I can give to you."

"Whoa, fella," said Myron sharply."What do I need with a load of firewood? I heat by dragon. Sorry, no deal unless you have gold or silver."

" Gee, there must be something I can arrange with you to make a deal. I really need a dragon."

" Ok, Ok, let me think," Myron mumbled."Wait a second. I could really use a fire-red tent to put over my lot of dragons. Great for advertising. People could see it from down the road. Get me one of those and you've got yourself Nellie the dragon."

"Fine, it's a deal," said McFurgal happily as he left to see the local wool merchant in the village. On arriving at the local wood merchant's shop, McFurgal went in and began talking with the owner named Radcliffe. "I need a fire-red tent. I don't have any money but was hoping we could make some kind of trade."

"Well," thought Radcliffe,"I'm a collector of swords and if you can get me a sword from one of the King's knights , I'll give you a fire-red tent." McFurgal said he'd be back and hurried along to find one of the king's knights.
He found several at the local nightly knight site. " Good evening. I'm wondering if one of you brave knights might be interested in making a deal for a sword," explained McFurgal.
One of the knights named Allistair remarked, "If you can get a blacksmith to fix this rusty spot on my armor, I'll gladly give you one of my swords."

The next day McFurgal was up bright and early and was heading for Blackdust's Blacksmith Shop. Blackdust, was so busy with the work he had to do that he barely looked up when McFurgal entered. "Good day, Mr. Blackdust. I'm in need of your services. Can you fix this rusty spot on this suit of armor? I don't have any money but would be willing to make a trade of some sort."

" Sir, "replied Mr. Blackdust, "you came along at just the right time. I have swords to finish, horseshoes to make and I'm working alone since my apprentice(helper) is sick. If you'd be willing to help me today keeping the fire burning and doing odd jobs in the shop, tomorrow I'll fix the armor of that knight for you. Deal?"

McFurgal worked a very long day helping Mr. Blackdust.

The next day as promised, the armor was fixed and McFurgal went back to Allistair , the brave knight, and gave him his armor and received a sword. Next, McFurgal returned to Radcliffe, the wool merchant and gave him the sword. Radcliffe then gave McFurgal the fire-red tent that was part of the deal. Finally, McFurgal returned to the used dragon dealer but found that not only was Nellie the Dragon not in the lot, McFurgal had a brand new fire-red tent for his used-dragon lot. Angerly, McFurgal, with lots of blisters and sore feet from all the traveling around the village that he'd done, said,"I thought we had a deal!"

"Sorry, fella, but someone offered me gold and silver, so I sold Nellie and went and purchased the fire-red tent that I wanted from the wool merchant's shop.

McFurgal was stuck with a fire-red tent he didn't need, lots of blisters on his hands and some thoughts about how to make purchases in the future.
Bartering:
1. What would you say is the definition of bartering. Can you think of other words?
2. What are some of the problems when you barter for something instead of using money?
3. Can you think of anything positive about barter one good or service for another?
4. Have you ever bartered something with someone?
5. Give three ways to repay a friend for something without using money.
*******My students have enjoyed this activity. Bring in enough items (ie: toothbrush, candy bar, candle, bar of soap, sponge, sea shell) for each student in your class Have students walk around the room and try and "swap" their item with someone else or keep their item and then sit down. Activity discussion questions: What were some items in great demand? Why were some items difficult to swap? Did anyone keep their original item the entire time and if so why?
Check out my Money, Money,Money-Teaching Kids about being Good Consumers!(unit of study with notes,fun facts,activities,2 short quiz activities,links) at my Teacher Store at TPT at this link:Money,Money,Money-Teaching Kids about being Good Consumers!$3.50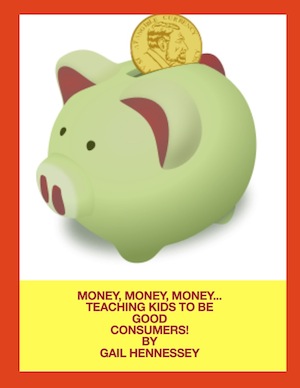 ---