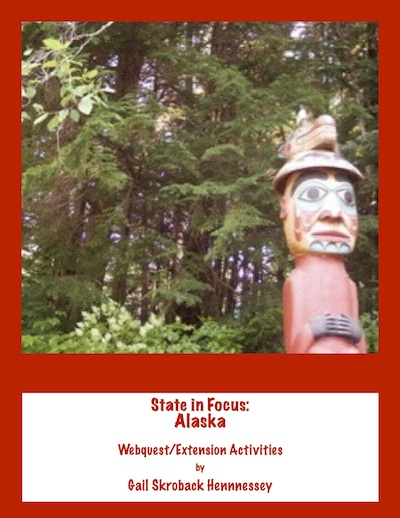 Photograph of totem pole by Gail Hennessey







State in Focus: ALASKA




by

Gail Skroback Hennessey










What do you know about the state of Alaska?










Use for following link to answer the map questions: http://www.enchantedlearning.com/usa/states/alaska/





1.What is the city which is the furthest north in Alaska?____________


2. What is the main river in Alaska which flows from the country of Canada?___________


3. This is the highest peak in Alaska(and North America)______________


4. Name three peninsulas in Alaska? ____________ DEFINE the term Peninsula?______________


5. Name the largest chain of islands off of the Alaska peninsula.____________


6. Which country is found on the other side of the Bering Strait?_____________


7. What is the capital of the state of Alaska?_____________


8. What are the three bodies of water which touch Alaska?_________________________________________


9. Is the Brooks Range above or below the Arctic Circle?_______________










Webquest on Alaska.




1. Siberian huskies and Alaska malamutes are the two main breeds used in the famous Iditarod race. Started in______, the Iditarod, nicknamed the _______________________ is held each year in honor of the Great Race of Mercy, of 1925, to bring needed medicine to sick children living in which Alaskan city?_________Mushers with dog sleds carried the medicine over a 674 mile journey.From which city does the race begin each year? ____________ Find the answers at this link:http://Enchantedlearning.com







2. The word Alaska comes from Aleyska,an Aluet word meaning______________ The state's nickname is __________________.There are 3000 rivers and 3 million lakes in Alaska! What is the name of the largest lake in Alaska?____________ Of the 10 strongest earthquakes to have taken place around the world, how many took place inAlaska?__________ The Yukon River is the ________ largest river in the United States.Find the answers at this link:

http://www.alaska.gov/kids/learn/facts.htm




3. The word Alaska comes from Aleyska, an Aleut word meaning______________ The state's nickname is __________________.There are 3000 rivers and 3 million lakes in Alaska! What is the name of the largest lake in Alaska?____________What is the northernmost place in the USA which is found in Alaska?___________ Find the answers at this link: Alaska.gov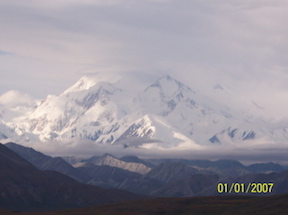 Photograph of Denali by Gail Hennessey
Fun Facts about Alaska:
Cheechako means newcomer to Alaska
Alaska has 47,000 miles of coastline and is the only state to touch 3 different seas.
A Sourdough,nickname for gold prospectors, comes from the bread started that these people brought along with them.
Muktuk is raw blubber of bowhead whale(beluga and narwhal,too).Some consider it a delicacy.
Extension activities:
Alaska's dinosaurs!Have students learn about some of the dinosaur discoveries made in the state of Alaska.
Aurora Borealis of Alaska!Learn about the northern lights, the aurora borealis. There is a short clip of the lights, too.
The complete web quest has 10 questions,lots more fun facts and 8 additional extension activities.
Click here to see the complete resource:Alaska: Webquest/Extension Activities!
---