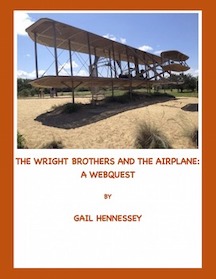 Webquest on the Wright Brothers and the Airplane
by
Gail Hennessey
Did you know that most people thought that the airplane had NO purpose for transportation and was considered just a dangerous sport? Learn more about the Wright Brothers and the history of early flight with this fun and informative webquest!
1.What gift did the brothers Wilbur , and his younger brother, Orville,receive from their father as boys that got them fascinated with flight?________________ What business did the brothers run before getting involved with building airplanes______________ Find the answers at this link: http://www.nps.gov/wrbr/historyculture/theroadtothefirstflight.htm
2.The Wright Brothers' first airplane was called the Wright Flyer. The first flight had speeds of 10 mph and reached an altitude of 10 ft. What childhood toy did the Wright brothers say sparked an interest in flight?_____________________ To whom did the brothers write to ask for a list of places with the best winds to try their flying experiments?__________________Which brother did the first flight?______________Find the answers at this link: : nps.gov
3. Look at the primary document of the Wright brothers' patent dated March/1903. Who was the commissioner who approved their patent application and what was the name of their invention? ________________What's unusual about the date of their application?___________________Find the answers at this link:loc.gov
There are 10 Webquestions in the complete resource.
Neat Facts:

1. The offer to sell the Wright Brothers' plan of their airplane to the US Army was turned down!(1905)

2. Most early thought was that the airplane had NO purpose for transportation and was just a dangerous sport.

3. Most papers (only three carried the story in the USA) refused to print the press release of the Wright Brothers historic flight, believing it was not possible for a human to fly and it had to be a hoax.

There are 7 additional facts!
Activities
Read a myth about early flight. Daedalus and his son, Icarus were locked up in a tower by a king. What did Daedalus make wings with to escape? What did he warn his son about flying and who happened to his son? Find the answers at: http://www.kidsgen.com/stories/folk_tales/icarus_and_daedalus.htm
Pretend you are Orville and Wilbur and write a journal about your experience flying the Wright Flyer on December 17, 1903.
There are 7 extension activities in the complete resource.
There are also additional resources of interest and several discussion questions.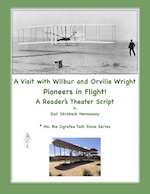 Note: Photograph of the Wright Brothers Type A Flyer from:http://publicdomainclip-art.blogspot.com/search?q=wright+brothers
---