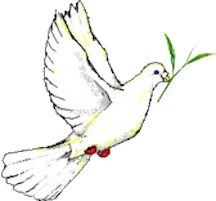 The International Day of Peace is September 21st.
Children are certainly not seeing the world demonstrating the concept of peace. Is there really anything we can do to foster the concept when our news continually shows just the opposite?
The International Day of Peaceis held every year on September 21st. Also called Peace Day, the first celebration was adopted by the United Nations in 1982. It would be in 2001, that nations of the world established September 21st as International Day of Peace. In 2016, the theme for the International Day of Peace is "The Sustainable Development Goals: Building Blocks for Peace." At the United Nations, in New York City, the Japanese Peace Bell is rung to start the day. Made from coins collected by children from sixty countries, the Peace Bell has the following words engraved on the bell, "Long live absolute world peace". There is a minute of silence at noon(at all time zones around the world).
Possible Activities for the International Day of Peace:
1. The dove is the international symbol of peace. Draw/ color a picture of a dove. Write a statement about the International Day of Peace.
2. Write an acrostic poem using the words PEACE.
3. Have students list some of the places in the world where there is conflict. Locate these places on a world map. Ask the students if they have any prior knowledge about the areas .
4. Alfred Nobel established the Nobel Peace Prize.Alfred Nobel
Learn about some of the people that have been award recipients of the Nobel Peace Prize. The youngest was teenager, Malala Yousafzai.
Nobel Prize Winners
5. Make a Peace Pole("May Peace Prevail on Earth") and place in the lobby of your school.
6. Read Sadako Sasaki and her One Thousand Paper Cranes. Free online book:http://www.storyjumper.com/book/index/15882492/sadako-and-the-thousand-paper-cranes#Make an origami paper crane.http://www.origami-fun.com/origami-crane.html
7. Make a pinwheel for peace:http://www.educationworld.com/a_lesson/dailylp/dailylp/dailylp006.shtml
8. Have students illustrate one of these quotes: Write a short paragraph explaining what they think the quote means.
A."Peace begins with a smile." Mother Teresa
B. "You cannot shake hands with a clenched fist." Indira Gandhi
C. "If you want to make peace with your enemy, you have to work with your enemy.Then he becomes your partner." Nelson Mandela
D. "An eye for an eye only ends up making the whole world blind." Mahatma Gandhi
E. "It isn't enough to talk about peace. One must believe in it. And it isn't enough to believe in it. One must work at it." Eleanor Roosevelt
F. "While you are proclaiming peace with your lips, be careful to have it even more fully in your heart." Francis of Assisi
G. "If you want peace, you don't talk to your friends. You talk to your enemies." Archbishop Tutu
9. Share with kids how to say "PEACE" in many different languages:Write Peace In Different Languages
10. Check out my Purple Turtle story, Purple Meets Dovey,the Dove:https://www.teacherspayteachers.com/Product/Purple-Turtle-Stories-Purple-Meets-Dovey-849071
---