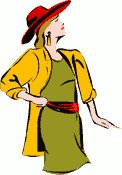 Dana Cambareri
Fashion Designer in NYC
1. Can you explain to young people just what a fashion designer is?
A fashion designer such as myself works for a "famous" designer. My job is to take that person's direction and execute his/her vision for their collection. Designers are usually separated into categories, each responsible for a particular product.Some may focus on outerwear, some tee shirts, sweaters or dresses.For me, my focus is denim so I design all products denim that fit into the collection as a whole. My job is to sketch, find fabric, and develop the product. That means I give measurements and details to a factory and they interpret and actually manufacture the garment after receiving the sketch. Next I fit the garment on a model to adjust the pattern and fit and then,the product goes into mass production.
2.How did you get interested in this career choice? Did anything in your childhood spark an interest for you?
Since childhood, I've always been interested in fashion and styling myself. I remember drawing since I was a child. I sketched animals and people and I used to sew doll clothes and do crafty things with cutting and pasting.
I moved to New York City with a BA in Marketing, I ended up working for a fashion magazine on the marketing side and became fascinated with the editorial part of the business and developed an interest in fashion. I went back to school for fashion design at FIT in New York. I got a job as a merchandising assistant at Calvin Klein. Merchandising is sort of a bridge between business and design. Once I finished school for design, I became a design assistant at Calvin Klein.
3. What is the best part of your career choice?
I guess I would say that the best part is that I've gotten to travel all over the world in my career choice.
4. What would you say is a negative aspect of your career choice?
I would say that fashion can be fickle, meaning styles are always changing and sometimes skills can be limiting to becoming something else in the career.
5. Describe your average day.
I check my emails because our office in Asia is where they are producing our garments. Depending on the season we are working on also determines what an average day is about. Seasons are always overlapping and we are in a different part of the process for each season. We may be fitting garments on a model about to go into production. I may be doing trend research for an upcoming season, or sketching for a current season. There are meeting with fabric mills to choose fabrics. Within the company, I work with merchandising departments and sales departments to get feedback from their area because this goes into the design process and decisions we make regarding our designs. We work with internal production department to make sure that our garments are coming in at a certain price and that the samples come in on time in order to show in the showroom at "Market". This is when stores come in to preview our collection and choose what they will put into their stores . There's also a lot of computer work. All sketches and details about fabrics, colors, thread, buttons, etc. go into a "tech pack" for each style which goes to the factory. When things change,like a color gets cancelled or added or a print is changed, we must update the paperwork and make sure the factory and all the internal departments are aware of the change. And we can be working on 50 styles per season so it is a lot of paper work! During the Fashion shows, held twice a year, there is a lot of work that goes into styling for show and any last minute changes having to do with the show.




6. Do you have a memory you'd like to share with young people concerning your career choice?

I was asked to work with Jennifer Lopez to help create her first JLO clothing collection. I was working for Tommy Hilfiger at the time and he offered to have me go to LA for a few weeks and design with JLO. I remember sitting with Jennifer in her kitchen. She offered me enchiladas that her family had made!Jennifer also showed me her closet with all her favorite pieces that she had worn to certain events, sharing what she loved about each of them.




7. What are the necessary skills/degrees needed to become a fashion designer? What could young people do now to prepare for a career as a fashion designer?

Sketching, creativity, and thinking practicallyare all important skills as is having an eye for detail and color. Communication,computer skills,yes, math skills are also very important and, of course, knowing how to sew!




To prepare for a career as a fashion designer,you might want to review fashion magazines or review clothing styles and trends in other types of magazines.What do you like about them? How might you style them differently,etc.?




8. Where can you work as a fashion designer?

The big markets are in NYCand LA but there are smaller companies in other cities like Southern California, Ohio or Pennsylvania. Of, course, there are also many markets in Europe.




9. What types of clothing do you specifically design?

Anything in denim-jeans, jackets, shirts and dresses and skirts,etc.





Note: Illustration from WPClipart.com
---