Executive Director: Scholastic's Super Science and Science World Magazines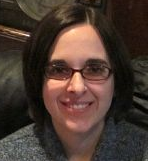 Career Choice: Magazine Editor
1. Can you explain to young people just what an editor does?
A editor thinks about the magazine's audience and what stories they might want to read. They come up with a table of contents for each magazine issue and contact authors to write the articles. When the authors turn in their articles, an editor's job is to see what changes could be made to make the stories more interesting.

2. What is the best part of your job?
It is fun to get to know the magazine's audience and try to come up with a table of contents for the magazine that they will find really exciting. I also like how my job allows me to learn about many topics-I learn something new with each issue!

3. What would you say is the most difficult aspect of  your career
 choice?
The most difficult aspect of my career is also one of the most rewarding parts: The magazines I edit go to classrooms, so I have to come up with story ideas that are exciting to kids that also meet teachers' needs in the classroom.

4. Do you have a memory you'd like to share with young people
 concerning your job?
I love going on school visits. One time, I was asked to sign the magazine. I felt like a celebrity.

5. What are the necessary skills/degrees needed to work as an editor for a magazine?
There are many ways that a person could become an editor for a magazine. I work for a science magazine, so I majored in science. I also took many writing classes. What is most important is that you learn as much as you can in whatever field interests you and practice writing about the topic in different ways that are fun and engaging.

6. Any suggestions for young people who might be interested in your
career? How can they begin now to get prepared for your career?
I would recommend that you get involved in your school's newspaper. You could even contact a local newspaper and see if they would create a column "for kids, by kids." Read, read, read: That will help you see what types of writing styles you like. When you are old enough, get an internship at a publishing company.

7. Where can you work as an editor?
Almost any product that has writing on it has an editor behind it! That means magazines, newspapers, web sites, store catalogs, advertisements, computer manuals, and so on. The workplace options are endless.

8 . Describe a typical day at your job.
When I first get into work, I check my e-mail and respond to people. Most of my day is spent in front of a computer: I read writers' articles and edit them until they are just right. I read magazine articles and science news to make sure that I stay on top of breaking science news. I also hold meetings with other people who work on my magazine to brainstorm story ideas and ways to make the magazine as exciting and useful as possible. Additionally, I work with the magazine's art director, who designs the magazine, to make sure that the text and the photos go well together.

9. What got you interested in this career? Did anything in school or your childhood help spark this interest?
I have always loved science and writing. I also have always enjoyed teaching people and sharing stories. This career is a wonderful combination of all of the above!

10. Anything else you'd like to share with young people about your
career?
Do what you love for your career, and you will never feel like you are working: You will always feel like you are having fun!