1. Can you explain to kids what is a professional clown?
A professional clown is a person who is a comical performer who entertains people by acting funny. We perform gags and have several different skills such as juggling, unicycling, slapstick comedy, tumbling, sometimes even a magic. A professional clown can work in a circus like
Ringling Bros
. and Barnum & Bailey Circus, local events, birthday parties etc.


2. What is the best part of your career choice?
The best part of my job is entertaining the audiences that attend our show. There is no greater feeling than seeing children and children at heart with smiles on their face and knowing that I helped put those there. Each audience is new and everyday is a challenge to create the magic a
Ringing Bros
. clown should bring to his/her audience.


3. What would you say was the most difficult aspect of your career choice?
Well, I am Boss Clown for the Red Unit of the
Ringling Bros.
Circus. The hardest thing about my job is bringing the "alley" (clown alley is the dressing room of the clowns and "alley" is the group of clowns to work together). We have clowns from many walks of life and different regions of the USA and Brazil. Like any management position, making your workers work together as one is challenging but at the end of the day when the audiences leave with smiles on their faces, it is a rewarding feeling.


4. Do you have a memory or two you'd like to share with young people concerning working for the circus?
My first day joining
Ringling Bros. and Barnum & Bailey
in 2005 has to be the most memorable memory. Watching the show that I was about to join was the most magical thing I had ever seen and felt. I had seen many, many
Ringling
shows before that but knowing that I had finally made my dreams come true was a whole different feeling. After the show ended, my parents said their goodbyes and that was it. I was off on a journey that would take me to every major US city and perform over 3,000 shows with
The Greatest Show on Earth
.


5. Any suggestions for young people who might be interested in your career? How might they start now to learn about your career? Which skills are necessary to be successful in your career?
Perform, perform, perform. Get as much experience under your belt as possible and when
The Greatest Show On Earth
comes knocking you will be ready. There are many resources to learn the art of clowning. You can go to your local library and ask for books, watch videos, and or join a circus camp. To be a clown you must know several different skills: juggling, acrobatics, makeup, stilt walking, physical comedy, unicycle, etc. Clowns are well rounded performers. Being a clown you have to be a people person. During the All Access Preshow, which happens an hour before each and every performance and is free to ticket holders, audience members are invited down to the arena floor to interact with the performers, get autographs, take pictures, try their hand at some circus skills, and as a clown the interaction with the audience is key. Making the "kodak" moments are what makes the performers at
Ringling
Bros.
, The GREATEST On Earth.


6 . Describe a typical day at your job.
A typical day is waking up early, going out in the city and promoting the show through special events and interviews. That's how we get the message to the people in each and every city that
Ringling Bros
. is in town. We then typically have rehearsals in the afternoon on opening day and then the show that night. After the show, as Boss Clown, I attend nightly production meetings with management to see what items we need to work on. Each week is always busy and different as we can do as many as 12 shows a week. On Saturdays and sometimes on Sundays we do 3 shows in one day. That's 3 hours and 15 min. for each show!


7. What got you interested in becoming a professional clown? Did anything at school help to foster your interest in this career? How did you go about getting a job at the circus? Did you attend clown college?
It was always a dream of mine to be a clown for
Ringling Bros.
Circus since I saw my first show when I was 4 years old. That sparked my imagination and my world opened up for me. I attended a clown camp in Minnesota called Mooseburger Clown Camp. It was a great facility to learn the art of clowning. I must say, most of the skills necessary to be a clown should be a natural born thing. Clowns are born, not made. I got the job at
Ringling Bros
. while I was working in New York at a Six Flags. I was performing a circus show called "CircusMania" and while working there, a
Ringling Bros
. talent scout named Tim Holst, had seen my performance and we began talking. Before I knew it, he sent me an email one Monday in September asking me if I was interested in joining
The Greatest Show On Earth
. Without missing a beat, I gladly accepted. Now, 6 years later, I am Boss Clown for the Red Unit of
Ringling Bros
. A dream that became a reality.

8. What was one of the most interesting places you have performed as a professional clown?
Having been with
Ringling Bros
. for the past six years and traveling city to city each week, I've gotten to see a lot of interesting places. I've found that each city is really unique in its own way and different to each region of the country but I still haven't found a city that I would love to move to once my "dream" ends. Maybe that means I'll never leave? For right now the
Ringling Bros.
train, which is where I live when I'm on tour and coincidentally what we call a city without a zip code, is where I'm the happiest.


9. Anything else you'd like to share with young people about your career?
Clowning is the oldest ancient art form known to man. It dates to the ancient Egyptian time period. Clowning in general has evolved many times and will continue to do so. As long as the world is around, there will always be a need for clowns. There will always be a need for circus and a need for laughter. Being a clown with
Ringling Bros
. is like the cadillac of clowning. I have the best job I can think of. I love every part of it and wouldn't change it for the world. Did you know that there are three different types of clown characters: whiteface, auguste, and hobo? The whiteface clown holds true to their name and has white makeup that covers their face completely with facial features painted in black and red. The auguste clown makeup base consists of pink, red, or tan, rather than white and features are exaggerated in size and are typically red and black in color. The hobo face can be painted a flesh colored pink and often include a beard and highlights of white around the eyes and mouth.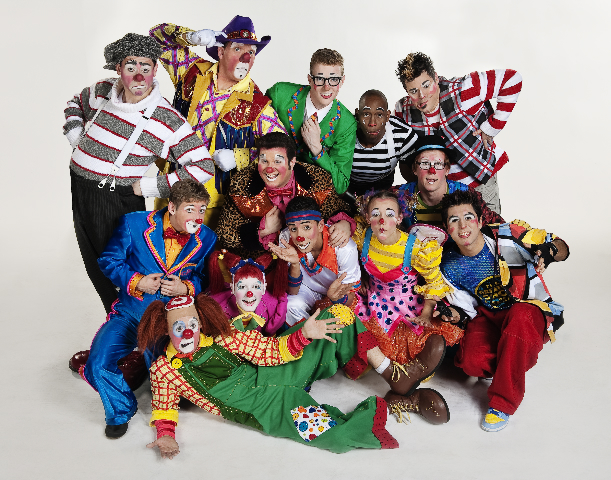 Dustin and his friends *Thanks to Ringling Bros. for the use of the great photographs!