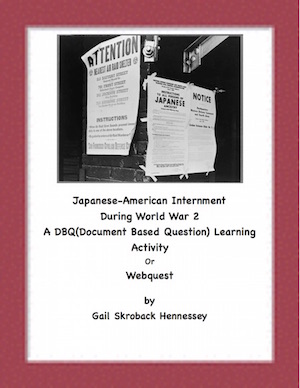 A DBQ(Document Based Question) Learning Activity
Life of a Japanese-American Child Living in an Internment Camp during World War 2.
by
Gail Skroback Hennessey
SAMPLE: For the entire resource, please go to my TpT Store:Life of A Japanese-American Child Living in an Internment Camp during World War2
A DBQ activity uses primary sources. Primary sources can include diaries,posters, music, news articles from the time, anything written by those who participated in or witnessed an event in history.
After gathering information using the following documents, you will develop an essay on this topic: Life of a Japanese-American Child Living in an Internment Camp during World War 2.
Directions: Review the documents and reading passages and answer the questions after each document. As you analyze these documents, take into account both the source of the document and the author's point of view.
Introduction:
After the attack on Pearl Harbor on December 7, 1941, the president of the United States ordered that the military could prohibit people from certain areas. This order, intended to prevent spying and sabotage, unfortunately was used to send about 120,000 Japanese-American citizens to relocation centers, or internment camps. These American citizens lost their jobs, possessions, homes and, their pride. Forcefully sent away, they lived in poor conditions behind armed guard fencing for the remainder of the war. Many of those sent away,for as long as four years, were children. After the war, these citizens of the United States went back to rebuild their lives, with never an apology from the government for what they had endured. Most returned to find their homes had been purchased,without their permission, by other people! All that they were forced to leave behind was gone. It wasn't until 1988, that President Reagan, officially apologized on behalf of the United States government to these American citizens for their treatment during World War 2.
1. Document 1:
Excerpt from President Roosevelt's speech to the US Congress Dec. 8,1941. Read President Roosevelt's speech:
SOURCE: http://www.americanrhetoric.com/speeches/fdrpearlharbor.htm
A. What is the feeling of the President as to negotiating with the Japanese after the attack at Pearl Harbor?
____________________________________________________
B. What does the President mean when he says,"A day that will live in infamy"?
____________________________________________________
C. What does "premeditated", "dastardly" and "unbounding"
 mean?
____________________________________________________
D. Why do you think the Japanese attacked Pearl Harbor?
____________________________________________________
2. Document 2:
Government document stating internment:
SOURCE: https://www.nps.gov/nr/twhp/wwwlps/lessons/89manzanar/89facts2a.htm
Read over the May 3, 1942 document from the Western Defense Command and Fourth Army Wartime Civil Control Administration.
A. Why do you think the US government felt it was necessary to evacuate Japanese-American citizens and place them into internment camps?
____________________________________________________
B. What weren't Japanese-Americans allowed to take with them to the evacuation locations?
___________________________________________________
C. List THREE items Japanese-Americans were required to take with them.
____________________________________________________
There are 5 documents and 2 reading passagesin the complete resource. There is a Teacher Page with a key and possible rubric.
Task: Using information from the documents, as well as your knowledge of the topic, write an essay on Life of a Japanese-American Child Living in an Internment Camp during World War 2.
Include the following:
1. What caused the internment of thousands of Japanese-Americans?
2. How did the internment cause the lives of Japanese-Americans to change?
3. What was the attitude toward Japanese-Americans by many other citizens of the United States during World War 2? Why do you think many other citizens felt this way toward Japanese-Americans?
4. What was life like for those in the relocation(internment camps) and how did Japanese-Americans feel about their treatment by the American government?
Write your first draft. Remember to include an opening sentence where you state to the reader what the topic is you will be covering. Remember to include specific details from information learned from the documents. Additionally, include additional information from your prior-knowledge of this topic in history. Remember to have a closing(wrap up) sentence, where you reiterate to the reader, what was the topic your essay covered.
Proofread your work and then write your final essay.
This activity could also be used as a webquest
Check out this similar resource:
"Describe Life on the Homefront During World War 2": https://www.teacherspayteachers.com/Product/DBQDocument-Based-QuestionActivityLife-on-Homefront-During-WW2-1127932
Note: Photograph from LOC.org
---