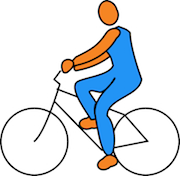 Tour de France 2017!
In 2017, the Tour de France will begin in Dusseldorf, Germany on July 1st. The race will end in Paris, France, on July 23rd. It's considered the world's biggest and most exciting bicycling race. Athletes competing in the race will travel approximately 3535 k (2197miles) during the 22 day race. Each day(called stages), a leader will be awarded a yellow jersey(or Maillot Jaune in French). In addition to the yellow jersey, there is a polka dot jersey awarded to the best climber(king of the mountains), a white jersey( the best youngest rider) and a green jersey(best sprinter).The Tour de France began in 1903.
See a map with the 2017 route:cyclingweekly.co.uk
NOTE: This information is from the 2016 race and will need to be updated if there is a women's event this year. In 2016,seven women did their own version of the Tour de France. Begun on July 1st, five women cyclists from the country of France and one woman cyclist from Belgium and one woman cyclist from the Ukraine followed the same course as the men cyclists. The women's race ended on July 23rd. Sponsored by cyclingfans.com the race hoped to create awareness toward women cycling and their competing in future Tour de France races. Do you think women should be allowed to compete with the men's Tour de France? Why or why not?
See more on this story:http://www.nytimes.com/2016/07/01/sports/cycling/tour-de-france-chris-froome-doping.html?_r=0
Fun Facts:
Only men compete in the Tour de France.
Approximately,123,900 calories are burned by each rider in the Tour de France.
42000 water bottles will be used by the racers!
Someone figured out that enough sweat is created from racers competing in the 22 day race, to flush a toilet 39 times!
Riders from France have won the most races!(36 as of 2015)
Vocabulary word:Peloton, the term for the "pack" of riders.
Extension Activities:
1. Write a diary pretending to be one of the cyclists in the Tour de France. What do you see? Feel? Hear?
2.Try this FREE crossword puzzle on France:http://gailhennessey.com/index.shtml?francepuzzler.html
3. Draw/color a picture of a bicycle. Write a fact learned about the Tour de France on your drawing.
4. Read about the Eiffel Tower, one of France's most famous landmarks:https://www.teacherspayteachers.com/Product/Eiffel-Tower-Explore-World-Landmarks-773097
5. Learn some fun facts about France:http://www.sciencekids.co.nz/sciencefacts/countries/france.htmlandhttp://www.timeforkids.com/destination/france
Illustration from:Wpclipar
---