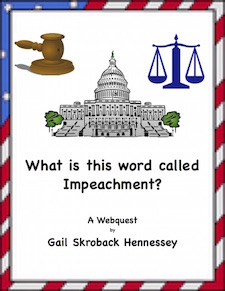 What is this word called Impeachment?
A Webquest
by
Gail Skroback Hennessey
You may have heard the word IMPEACHMENTbeing used in the news. Some people are talking about impeachment and the 45th president of the United States, Donald Trump. What exactly is impeachment? In U.S. History, only two presidents have had charges of impeachment. Use this webquest to learn more about how the founding fathers determined the use of impeachment in the U.S. Constitution and the history of impeachment.
1. What does IMPEACHMENT mean?__________________ Which body can "impeach" a president of the United States?______________________ Which body holds the trial of impeachment charges?_______________Find the answers at this link:
http://www.congressforkids.net/Executivebranch_impeachment.htm
2. What are the three charges for which a President(vice president or other government person)can be impeached?___________ ____________ and ______________From which country did the founding father get the idea of impeachment?_________________Find the answers at this link:
https://www.scholastic.com/teachers/articles/teaching-content/impeachment/
3. How is it determined whether the charges of impeachment should move forward to a trial? _____________________ To remove a person from office, what is the requirement for a conviction by the senate?___________Find the answers at this link: https://quizlet.com/5415370/impeachment-process-flash-cards/
Other resources you may find of interest:
1. Learn more about the Election Process with this web quest: https://www.pinterest.com/pin/290482244700909696/Students will learn about the election process including requirements to run for office, requirements to vote, the Succession Act, the Electoral College and more. There are 12 web questions, a Did You Know? fact section and comprehension questions.
2. Learn more about Presidents with this web quest.
Did You know that President John Quincy Adams had an alligator? Martin Van Buren had two tiger cubs and President McKinley's pet parrot could whistle, "Yankee Doodle". Did you know that President Franklin D. Roosevelt served HOT DOGS to the King of England? Did you know that President Garfield could write with both his right and left hand at the SAME time? Presidential Webquest/Extension Activities: https://www.teacherspayteachers.com/Product/Presidents-A-Presidential-Webquest-338700
3. Do YOU Know Your Presidents is a series of three challenges. Each challenge worksheet has 25 questions(with 3 choices). The first challenge is the easiest with the third, the hardest.
There is also a Presidential Did You Know? https://www.teacherspayteachers.com/Product/Presidential-Facts-To-Challenge-Your-Students-2586425
4. Learn about the White House: Learn about the White House with 10 informative web questions, comprehension and discussion questions and several extension activities. https://www.teacherspayteachers.com/Product/Learn-about-the-White-House-Webquest-359868
Illustrations from openclipart.org/wpclipart.com
---