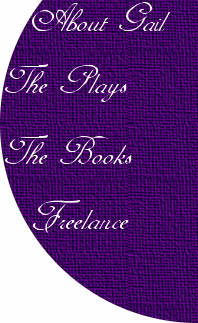 Keep the Learning Going(Summer)!Learn about the FAMOUS GAMES of Ancient Greece!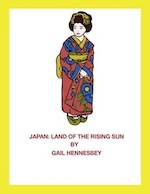 Keep the Learning Going(Summer)!Learn about Japan, host of the 2020 Olympic Games!
Keep the Learning Going(Summer)!Everything has a History!)*also sold individually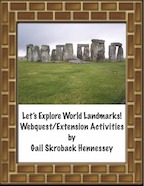 Keep the Learning Going(Summer)World Landmarks!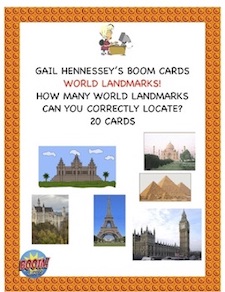 Keep the Learning Going(Summer)World Landmarks,BOOM CARDS!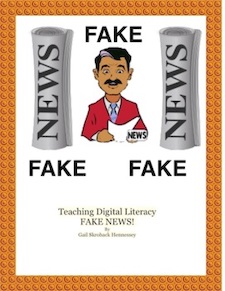 FAKE News!Can you Tell The REAL News?
My Book- Fashion Rules!

My Book-Mrs. Paddington and the Silver Mousetraps

Visit My Boom Card Store

Purple Turtle Premium Home Schooling Program. Click for subscription information!

Click Here for catalog:
Social Studies School Service/Resources for Teachers, Parents,counselors,more!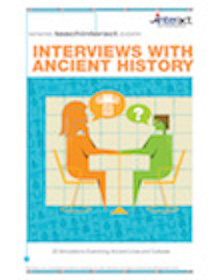 Reader's Theater Scripts(Biographies in Ancient History):
Reader's Theater Scripts (Biographies in US History)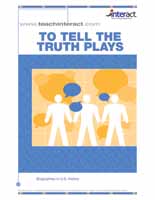 Click here to learn more:
Teachinteract.com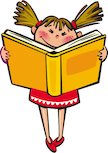 Click here:READING NOOK
Is That FAKE News?

Anti-Bullying Resources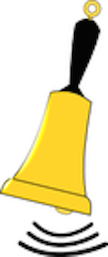 Need a quick activity?
Bell Ringers!

In the News!
Updated regularly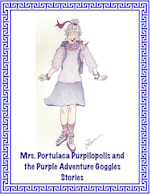 Mrs. Portulaca Purpilopilis
and the Purple Adventure Goggles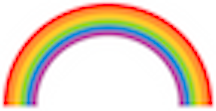 The COLOR GAMES!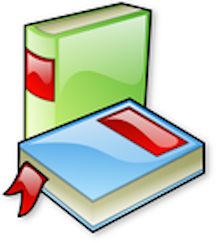 The Wooden Cookie Box Story The Wooden Cookie Box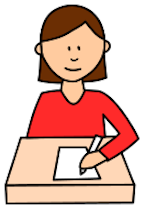 DBQ Activities!


Facts to Wow your Friends!

World Landmarks: Lots of fun things to use with your students!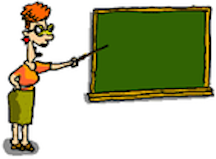 Teaching Ideas!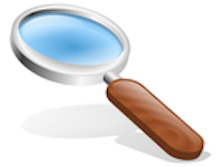 Webquests!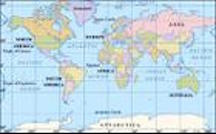 Geography Activities

Geography Ideas!
Purpleannie's Travels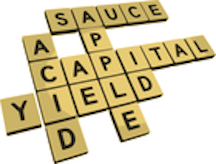 Crossword Puzzles!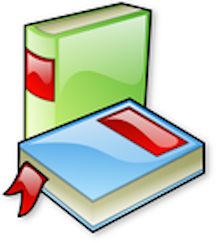 Short Reads of interest
Dive into Career Choices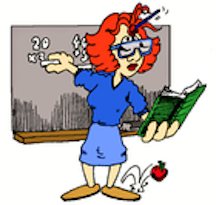 Teaching Tips A-Z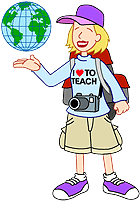 Mrs. Waffenschmidt


`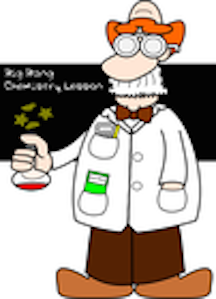 wpclipart.com

Science Fun!



`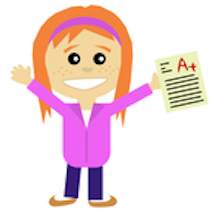 P.R.A.I.S.E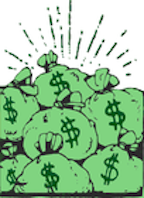 MONEY, MONEY, MONEY

Landmarks from Around the World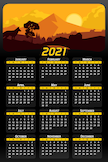 Calender of Resources for the Year:
Mail Gail:


Gail Hennessey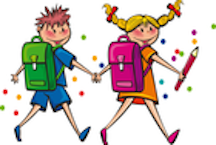 Free JavaScripts provided
by The JavaScript Source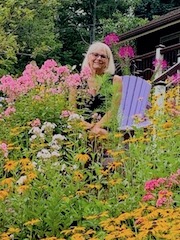 Welcome to My Website for Educators!
Teach PEACE and TOLERANCE
Try doing an act of kindness for someone, today!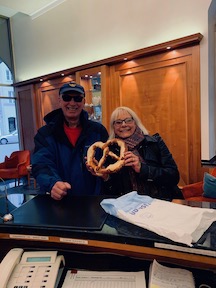 Munich, Germany,2019
PLEASE TAKE A MOMENT AND SIGN MY GUESTMAP. I'D LOVE TO SEE WHERE MY VISITORS CALL HOME! Click on the GLOBE ICON on the left to open the map.
Animated picture from: animatedimages.org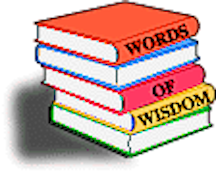 "Remember no one can make you feel inferior without your consent."
Eleanor Roosevelt
"If I can not do great things, I can do small things in a great way."Martin Luther King Jr.
"The school is the last expenditure upon which America should be willing to compromise."FDR
"If a man empties his purse into his head, no man can take it away from him. An investment in knowledge always pays the best interest."(Ben Franklin)
"You must be the change you want to see in the world."(Mahatma Gandhi)
"School is a building that has four walls-with tomorrow inside."(Lon Watters)
"We know the future will outlast all of us, but I believe that all of us will live on in the future we make."(Senator Ted Kennedy)
"The purpose of life is a life of purpose." (Robert Byrne)
"The purpose of life is to amount to something and have it make some difference that you lived at all."(Dear Abby)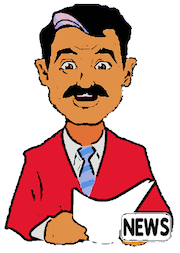 8/1/2020: My latest book, Fashion Rules!, my latest book from Red Chair Press, is now available:
Fashion Rules!
11/2020: Mrs. Paddington and the Silver Mousetraps has won another children's book award,a Northern Lights Book Award Winner! Thank you!

7/2020:Mrs. Paddington and the Silver Mousetraps won a 1st place Purple Dragonfly Book Award in the Picture Books 6 & Older category. Thank you, Story Monsters!

3/24/20:Excited to have my latest children's book, Mrs. Paddington and the Silver Mousetraps, chosen as a 2019 Story Monster Approved winner!
Check out Mrs. Paddington and the Silver Mousetraps which is available at Amazon.com and BarnesandNoble.com Mrs. Paddington and the Silver Mousetraps
History is full of fascinating stories of colorful characters, but some of the most interesting parts of history are really odd. You have probably seen scenes of government officials with their powdered white wigs, but in 1700s England and high-society in the American colonies, women created towering hairstyles. Decorations such as ships and flowers were sometimes added to their hairdos, especially if attending a big party. Taking hours to create, women used beef tallow and sugar-water to keep their hairdos in place. This fictional account explains a very real fashion trend and the problems it created for women trying to look stylish!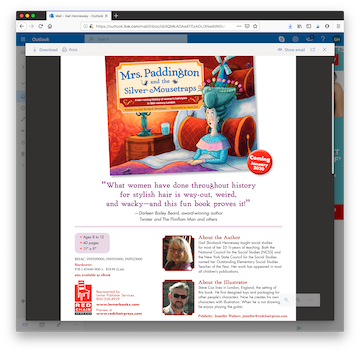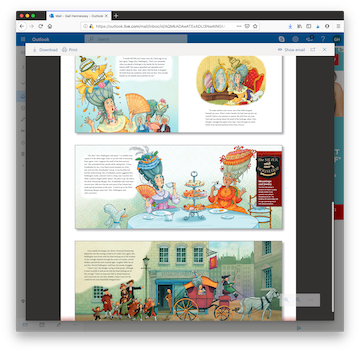 Highlighted FREEBIES for AUGUST:

1. FREEBIE ON APPLE FACTS: This interactive notebook on Apples has several activities and 17 interesting fun facts about apples.APPLE FUN FACTS
2. FREEBIE: CONSTITUTION Fun Facts!Learn some fun facts on the Constitution. Activity for Constitution Day! Each year, Constitution Day is celebrated on September 17th. Constitution Day!

3. Mummy Facts:Mummy Factoids!
4.Antibullying:Antibullying Freebie
5. International Peace Day: September 21st. The International Day of Peace is held every year on September 21st.International Peace Day Freebie
6.World Rhino Day( 9/22) Freebie: Rhino Fun Facts
7. Fake News: Fake News Freebie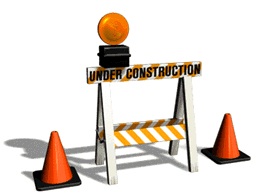 Highlighted Resources for JULY:

1. Famous Games of Ancient Greece: Famous Games of Ancient Greece
2. Host Country of Japan: Japan: Land of the Rising Sun
3. Boom Cards: Famous Women: Boom Cards: Famous Women
4. Boom Cards: Maps and Geography: Boom Cards: Maps and Geography
5. Boom Cards: Presidents:Boom Cards: Presidential Trivia
6. Readings in History: Calvin Coolidge and the Pennsylvania Avenue Zoo: Calvin Coolidge and the Pennsylvania Avenue Zoo
7. Readings in History: John Adams goes for a Swim: John Quincy Adams Goes for a Swim
8. Readings in History: George Washington and the Camel: George Washington and the Camel!


READINGS on Famous Women:Phillis Wheatley(poet),Aida De Acosta(first woman to fly a powered aircraft), Sojourner Truth(abolitionist, women's rights activist, author), Joan of Arc,Caroline Herschel, Mary Annings,Aglaonike(Greek Astronomer), Hypatia(First Known Woman Mathematician), Agnodice(First Female Doctor?), Enheduanna(First Known Poet), Sophie Brahe(Astronomer and Horticulturist of the Renaissance), Hildegard of Bingen (first musical play, write/abbess of the Middle Ages), Artemesia(Female Naval Commander-Persian War)


Click here:Gail's TpT Store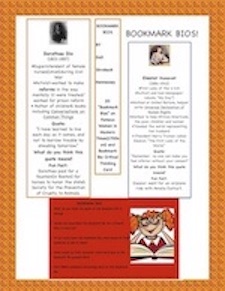 Bookmark Bios!Great for a bell ringer activity for Women's History Month.Click here to purchase:Bookmark Bios! Women in Modern Times(1700s on)


https://outlook.live.com/mail/inbox

Check out FREEBIE of TWO Bookmark Bios:Sample of TWO Bookmark Bios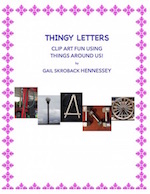 Use my THINGY letters to have kids write spelling words, vocabulary words or as an art activity! Have students try and guess what some of the THINGY Letters are.(also have Black/White option):ClipArt: Alphabet Thingy Letters!
Check out my series of Children's Books from Aadarsh Publishing!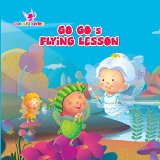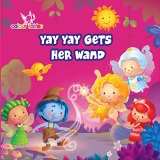 Colour Fairies: Go Go's Flying Lesson
Colour Fairies: Yay Yay Gets Her Wand


Check out my blog on Education World: Click here:EducationWorld Blogger
My Latest Reader's Theater Scripts:Go to the link and click "Preview" to see a sample of the Reader's Theater Script you may find of interest:
Galileo Galilei, A Reader's Theater Script
William Shakespeare
Bessie Coleman,Aviator
Marian Anderson
Leonardo da Vinci,"Renaissance Man!"
Michelangelo!
The Bus Ride That Changed History(A Visit with Rosa Parks)
McSean, the Leprechaun, A Reader's Theater Script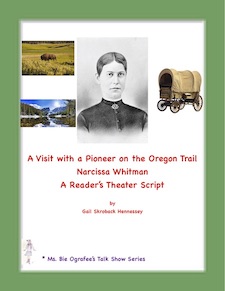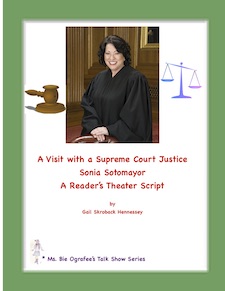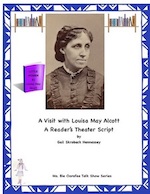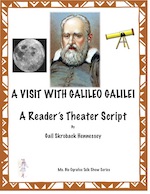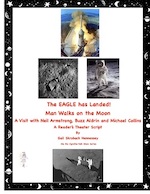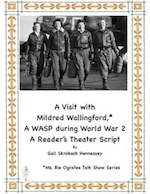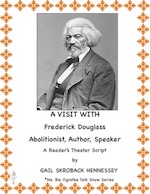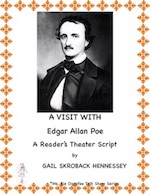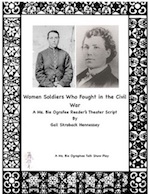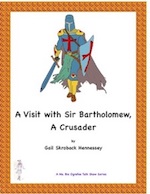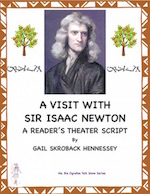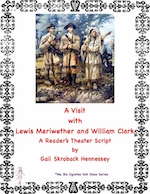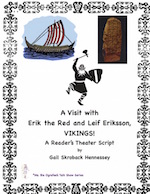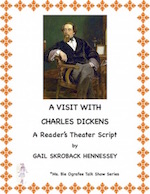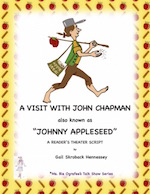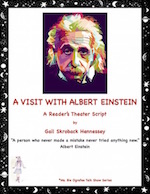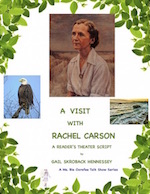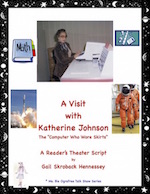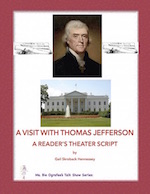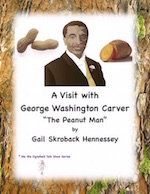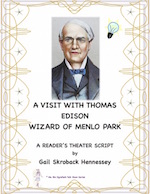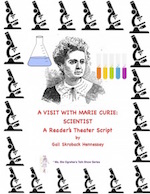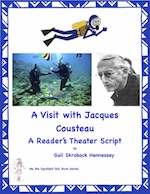 LOOK!
I remember the saying "Sticks and stones may break your bones but names can never hurt you". Personally, I never thought this to be true. Words are very powerful and negative words can hurt-a lot! Each day, thousands of young people experience some sort of bullying, either in words and/or actions. These two sites have great resources which might be of help to classroom teachers, parents and young people:
Stop Bullying!

Click here to learn more about Anti-Bullying Activities to use in the classroom.Stand up to Bullying!

To any young people visiting my website. Please,if you are being bullied, seek help...SPEAK TO AN ADULT today!And, if you SEE something that looks like bullying-SAY something to an adult!
Check out my Pinterest page to see all my resources in one easy place!Click here to learn more:Gail's Social Studies Emporium(and More)
IN THE NEWS:7/21/2020:
Have your ever had a goldfish for a pet? Usually the average goldfish is just about 2 inches long but some whoppers have recently. been recently found in the Keller Lake in Minnesota. The giant goldfish are about the size of a football and are about 12 inches long. One found last year weighed nine pounds! Seems that as long as the fish have enough food and water, they will grow…and grow. These giant-sized goldfish living in the lake make look awesome but they are an "invasive species".That means they compete with the native species and harm their habitat. Authorities ask people NOT to release their goldfish into bodies of water.

Photograph from live science.com
Do you wear eyeglasses? If you do, you are in the majority, as 6 in every 10 people do wear eyeglasses! However, no main character of a Disney movie has every worn glasses, until now. In Disney's Encanto, Mirabel, wears eyeglasses! In 2019, Lowri Moore,11, from Great Britain, wrote Disney. She asked that Disney consider making a character who wore eyeglasses.Seems Lowri's letter made a difference!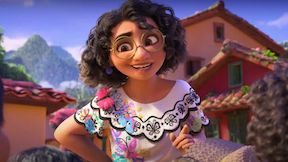 Photograph from BBC Newsround
The new 2021 Scripps National Spelling Bee champ is 14 year old Zaila Avant-garde. She won with the correct spelling of the word, murraya(a genus of Australian and Asiatic tropical trees) being crowned the winner out of 11 finalists. Zaila made history becoming the first African American to win the spelling championship in its 96 year history. Zaila says that spelling is a "side hobby".In addition to being a spelling whiz, Zaila, who wants to play professional basketball, has also several Guiness World Records including the most bounce juggles in one minute(255 with four basketballs), the most dribbled basketballs at one time(six for 30 seconds) and the most basketballs bounced in 30 seconds(307). Congrats to Zaila!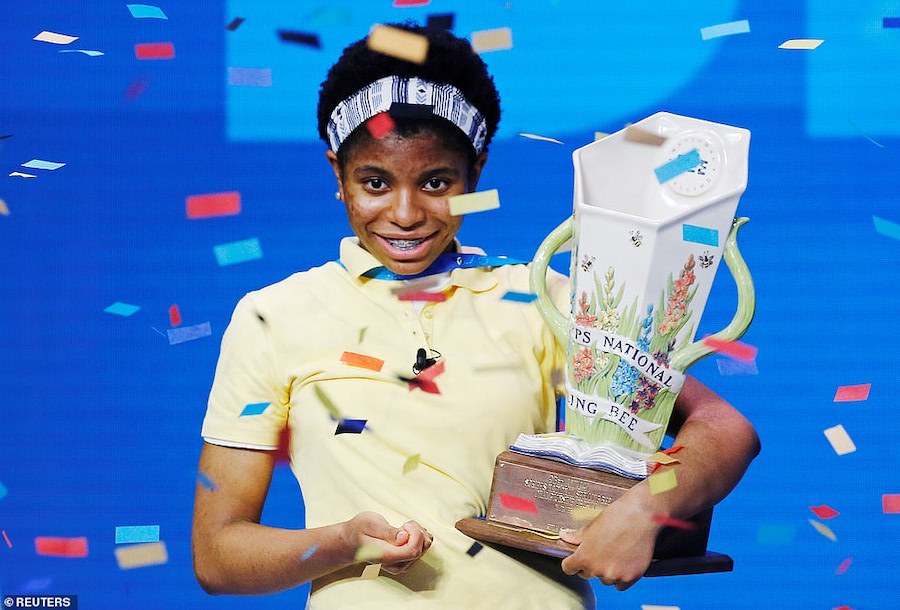 Photograph from Dailymail.
A world record sandcastle was recently built in the country of Denmark. Reaching 69.4 ft. high, and using over 5000 tons of sand, the sandcastle, was the creation of Wilfred Stijger and 30 other sand sculptors. Some glue was added when it was completed so it could hopefully last until the winter months. You can see the sandcastle in Blokhus, Denmark.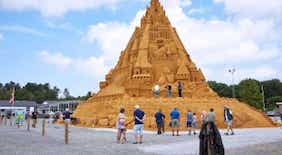 Photograph from winnows
As the Tour de France gets underway, it was announced that a WOMEN'S Tour de France ( Tour de France Femmes )will resume in 2022. It was in the 1980s when the last Women's Tour de France took place. The eight day race will begin at the conclusion of the men's Tour de France.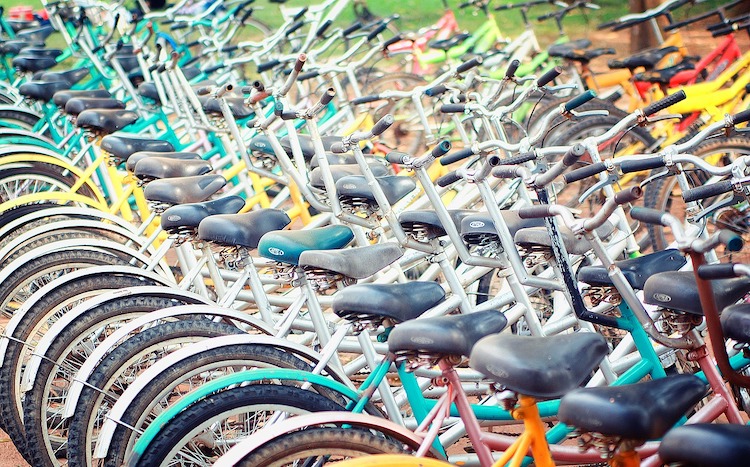 Photograph from Pixabay

A flying car, that can reach heights of 8200 ft. and speeds of 105 mph, completed its first 35 minute inter-city flight, in the country of Slovakia. The AirCar was able to return from its test flight and within three minutes have its winds folded away, returning to a sports car, and then, driving away. The vehicle can carry two people.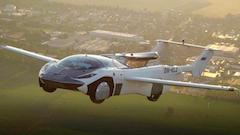 Photograph from BBC
LEGO plastic bricks are making a change. The company has announced that they will be using recycled bottles to make their colorful plastic bricks. The company said that in addition to play, LEGO wants to have a "positive impact on the planet". A one-liter plastic soda bottle will produce about 10 LEGO bricks. The eco-friendly bricks should be available in less than two years.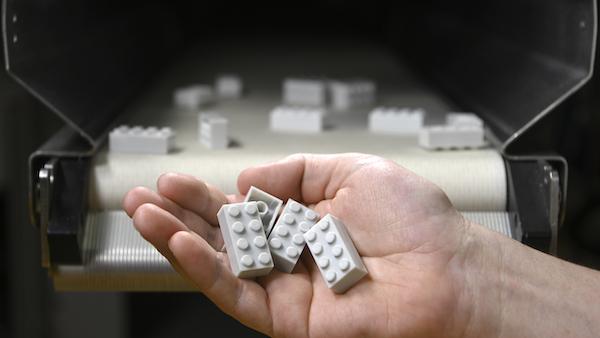 Photograph from Mashable

About Gail:

I have retired from teaching after 33 1/2 years in the classroom. Of that time, I taught Grade 6 Social Studies teacher for 31 1/2 years.I earned my BA in early secondary education with a concentration in social studies from SUNY Oneonta, New York, and my MST in social studies education from Binghamton University in New York. In 1988, I was awarded the Outstanding Elementary Social Studies Classroom Teacher of the Year Award from the New York State Council for the Social Studies. Additionally, in 1988, I was also awarded the Outstanding Elementary Social Studies Teacher of the Year Award by the National Council for the Social Studies. I am the author of 8 books for teachers and over 30 books for children(Purple Turtle Series by Aadarsh Publishing). In 2019, my new series of three books, "Odd History" will be published by Red Chair Press.

My work has appeared in most children's publications including:
Appleseeds,Scholastic's Super Science,Scholastic's Science World,Highlights for Children,Jack and Jill,National Geographic World, Ranger Rick, Cobblestone, Faces, Muse Magazine,Contact Kids, US Kids,Action Magazine(Scholastic),Girls' Life,Boys' Life,American Girl, Instructor,Creative Classroom,Middle Years,Time for Kids,Scholastic News,Scholastic News Zone, Time for Kids , Ask Magazine, Dig,Calliope, Cobblestone, FACES, Studies Weekly, Glo Adventurer, and more.

* Special thanks to EducationWorld for letting me use this image of my "alter ego" as Mrs. "Waffenschmidt!

---